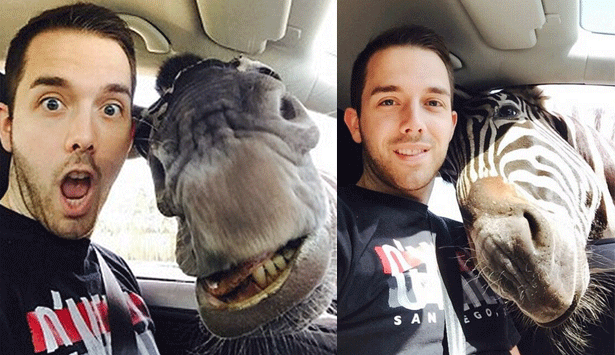 German tourist snaps hilarious selfies with friendly zebra
A German tourist has captured some of the greatest animal selfies of all time after a zebra cosied up to him at a safari park in Germany.

Malte Woestefeld snapped the hilarious photos as he drove through the wild animal game reserve and was approached by the friendly animal.

The zebra stuck its head inside the car, leaving the 24-year-old with an astonished look on his face as he took a series of pictures.

Malte, a business administration student from Mulheim an der Ruhr in north-western Germany, said the amusing moment unfolded during his visit to Zoo Safaripark earlier this month.

Photos show the zebra sticking its tongue out and nuzzling against the surprised visitor as he snapped as many photos as he could with his mobile phone.

Malte told MailOnline Travel: "There was a big horde of zebras but this one was standing alone. It looked like it was waiting for us."

"We had our windows closed the entire time because they also have lions and other dangerous animals and this is the regulation of the park that we respected."

"However in this area where the pictures with the zebra and antelope took place we opened our window to say hi to the friendly zebra. I had a carrot in my backpack so I gave it to him."

"The zebra was actually super cuddly and didn't leave the window for a few minutes. It was never aggressive or trying to search for more food."

"It laid its head next to mine and smiled for the camera. I would say it was in the car around two minutes."