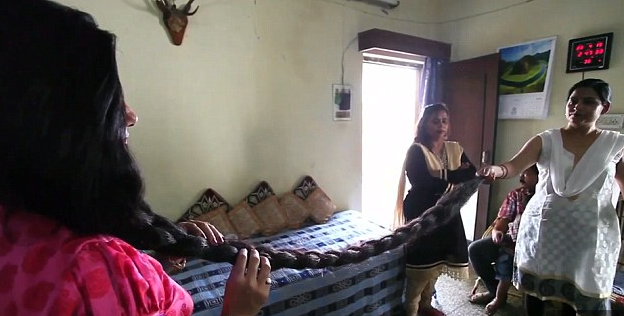 The Indian Rapunzel! Woman with seven-foot-long hair
An Indian woman who holds several awards for the extreme length of her hair has ambitions of one day becoming a Guinness World Record holder.

Smita Srivastava, of Allahabad, in the Indian state of Uttar Pradesh, currently holds the record for having the longest hair in India – documented at 6ft (1.8m) in the Limca Book of Records.

Her hair now stands at 7ft (2.1m) – more than three inches longer than the height of the average basketball player.

But the 37-year-old Indian Rapunzel, who has become somewhat of a local celebrity, does not intend to rest on her laurels.

She said: "My life is a busy life. My hair length is 7 feet."

"I have won many awards and I am a record holder in the Limca Book of Records and I am planning to attempt a record for the Guinness Book of Records."

Ms Srivastava has had a passion for growing her hair ever since she was a child and her family support her endeavour.

She is a brand ambassador for several local oil products and is also a regular jury member at a major beauty contest in her hometown.