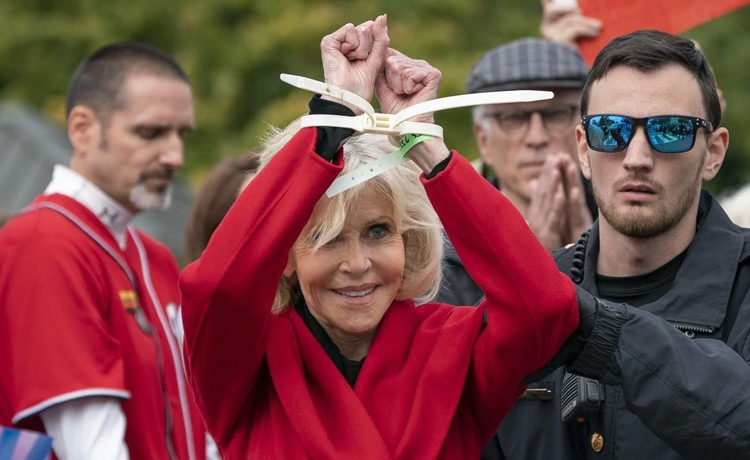 Jane Fonda Accepts BAFTA Award While Being Arrested
Variety.com: Jane Fonda may have just given the greatest acceptance speech of all time.

Fonda was set to accept the Stanley Kubrick award for excellence in film during BAFTA LA's annual celebration on Friday night at the Beverly Hilton, but since the actor had been arrested earlier in the day while protesting for climate change awareness in Washington, D.C., it was clear she'd no longer attend. But what the audience did not expect was the taped acceptance speech from Fonda that played for the crowd.

"I'm so honored. I can't even believe it. I'm so grateful. It's thrilling and I'm sorry I'm not there, but as you may have heard, I've been getting arrested," Fonda said in the message that played onscreen in the ballroom. "I decided I need to do more about climate change. And so I moved to DC for four months, trying to heighten the sense of urgency that there needs to be."

The speech then cut to footage of Fonda protesting on Capitol Hill, with the actor adding, "This is a crisis; not just here but all over the world."

Then, the intent of the video message quickly became clear, showing Fonda with her wrists held together with zip-tied handcuffs, yelling to the camera while being arrested with her fellow demonstrators: "Thank you BAFTA. BAFTA, thank you for the Stanley Kubrick award for excellence in film. I'm sorry I'm not there, I'm very honored."

Fonda's surprise speech received rousing support from the crowd, with loud cheers and a standing ovation for the activist.


Folks, @Janefonda accepted the Stanley Kubrick Britannia Award WHILE BEING ARRESTED. #Britannias pic.twitter.com/LDbZKTZWrs

— BAFTA Los Angeles (@BAFTALA) October 26, 2019