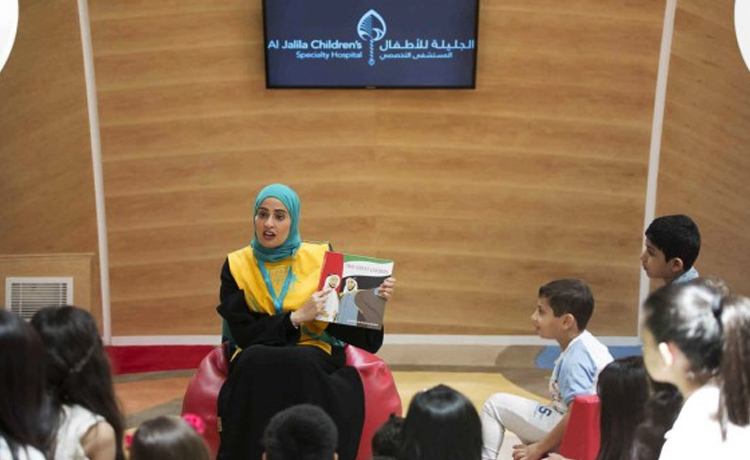 H.E. Ohood bint Khalfan Al Roumi Signs Up as the First Volunteer Of Abtaal Al Jalila
Wam.ae: Al Jalila Children's Hospital has launched its volunteering programme, 'Abtaal Al Jalila', or Al Jalila Heroes Ohood bint Khalfan Al Roumi, Minister of State for Happiness, signing up as the first volunteer of the initiative.

Abtaal Al Jalila was initiated by the hospital in line with the Year of Giving and is aimed at involving the wider community in contributing to children's health and happiness. The 'superheroes' theme was envisioned to highlight the fact that volunteers are true heroes for the time and effort they put in, while also further creating a concept that children can easily relate to.

Ohood Al Roumi was received by Dr. Mohamed Al Awadhi, COO of Al Jalila Children's and the senior management of the hospital, and was provided a tour of the hospital's main departments. She was then introduced to the 'Abtaal Al Jalila' programme and registered online as the first volunteer.

Her first volunteering mission was to read out to a group of children from the hospital a motivational book titled 'Two Great Leaders' authored by His Highness Sheikh Mohammed bin Rashid Al Maktoum, Vice President, Prime Minister and Ruler of Dubai, which narrates the lives of the late Sheikh Zayed bin Sultan Al Nahyan and the late Sheikh Rashid bin Saeed Al Maktoum.

The minister stressed the importance of spreading the spirit and culture of volunteering across the community, in addition to developing strong social partnerships aimed at improving the quality of life, leading to a happier community overall.

Al Roumi also lauded Al Jalila Children's efforts to launch 'Abtaal Al Jalila' as an innovative volunteering programme that will help spread joy and happiness among children while spreading awareness on the importance of such initiatives that ease children's suffering and stressful medical conditions.

Dr. Mohamed Al Awadhi said, "We are delighted that Ohood Al Roumi launched Abtaal Al Jalila and also signed up as its first volunteer. Abtaal Al Jalila is a pioneering programme for volunteering in this region. The individuals who sign up are not just given tasks but an opportunity to positively and considerably impact the lives of children. The efforts of every volunteer go into making the UAE a happier place and are a celebration of the Year of Giving."

Volunteers who register and are accepted will go through introductory orientations. Every application is screened and applicants go through an interview process before being accepted as an Abtaal Al Jalila volunteer.

Residents who would like to be part of Abtaal Al Jalila can register online via the hospital's website. The programme is now open to UAE residents, aged 16 and above.