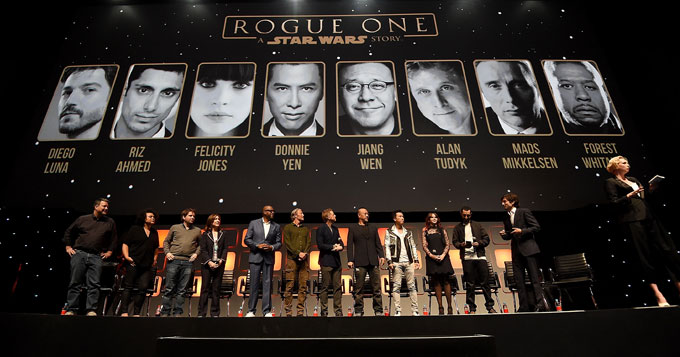 Rogue One: A Star Wars Story: No.1 In Box Office
ew.com: Continuing its forerunners' legacy of making bank at the weekend box office, Rogue One: A Star Wars Story rockets to the top of the domestic chart, earning an estimated $155 million across its first three days in theaters.

Though it trails last year's Star Wars: The Force Awakens' massive opening by nearly $100 million, the film still tallies the second biggest December opening of all time in North America. The picture's opening weekend audience was comprised of 59 percent men and 74 percent adults, with 62 percent of all ticket buyers purchasing seats for 2D screenings as opposed to 38 percent who opted for 3D viewing. The film also earns an A grade on CinemaScore from polled moviegoers.

The franchise flick picks up an additional $29.2 million from 708 IMAX screens, registering the second biggest December IMAX opening of all time, just behind The Force Awakens. In terms of total global numbers, Rogue One amasses $290.5 million, opening at No. 1 in all markets around the world. Internationally, the film's $135.5 million gross notches the fourth highest December opening of all time. Still on the film's docket are openings in heavy-hitting territories like China and Korea.

Falling to No. 2 after three weeks on top of the domestic earners list is Disney's Moana, which adds an estimated $11.7 million to its healthy $161.9 million total. Combined with Rogue One's grosses, Disney handily leads the North American box office, slotting titles in the top two positions, further growing its record-breaking year at the box office.

At No. 3, Paramount's Office Christmas Party loses a few guests, as the ensemble comedy — featuring Jennifer Aniston, Jason Bateman, Kate McKinnon, and Olivia Munn — dips around 50 percent for an estimated $8.5 million finish. The film sees a larger-than-average fall for a winter comedy. Its genre brethren — including last year's Sisters — tend to descend slowly into the holiday stretch, with the Tina Fey/Amy Poehler comedy actually gaining 1.9 percent over its second weekend without adding any locations to its screen count.

Will Smith's latest big-screen venture Collateral Beauty notches the worst wide debut in his multi-decade career on the big screen, mere months after he starred in the top-grossing title in his filmography, Suicide Squad, which made $325.1 million this summer. Despite a stellar ensemble cast — including Edward Norton, Kate Winslet, Helen Mirren, Naomie Harris, and Keira Knightley — the film suffered dismal reviews and a muddled marketing campaign, and consequently opened to a paltry $7 million this weekend. This marks the second year in a row Smith has fronted a holiday underperformer, with his Concussion premiering to an underwhelming $10.5 million in December 2015.

At No. 5 is Warner Bros.' Fantastic Beasts and Where to Find Them, the J.K. Rowling-penned Harry Potter spin-off. The film dips an estimated 51.7 percent to around $5 million for the three-day period, bringing its domestic total to just under $207.7 million after five weekends in theaters.