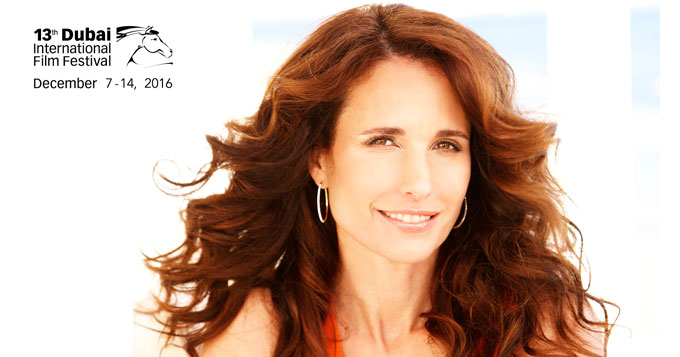 Hollywood Actress Andie Macdowell Joins DIFF 2016
Andie MacDowell participates in a masterclass Q&A to discuss her experience shooting legendary independent films, as well as major studio productions and television series.

She is an American actress and fashion model. She made her film debut in 1984's Greystoke: The Legend of Tarzan, Lord of the Apes, before receiving critical acclaim for her role in Sex, Lies, and Videotape (1989). Since then she has appeared in several notable films, including Groundhog Day (1993) and Four Weddings and a Funeral (1994). She has also starred in Green Card (1990), Short Cuts (1993), Michael (1996) and Multiplicity (1996). From 2013 to 2015, she starred in the drama series Cedar Cove.

MacDowell studied method acting with teachers from the Actors Studio, in addition to working privately with the renowned coach Harold Guskin.[5] Four years later, director Steven Soderbergh cast her in the independent film Sex, Lies, and Videotape (1989). Her performance earned her an Independent Spirit Award, a Los Angeles Film Critics Association Award for Best Actress, several other award nominations and led to a series of starring roles in films such as Green Card, The Object of Beauty, and Short Cuts. In the 1990s, MacDowell achieved stardom due to the box office success of director Harold Ramis's 1993 comedy, Groundhog Day, and Four Weddings and a Funeral (1994), opposite Hugh Grant.