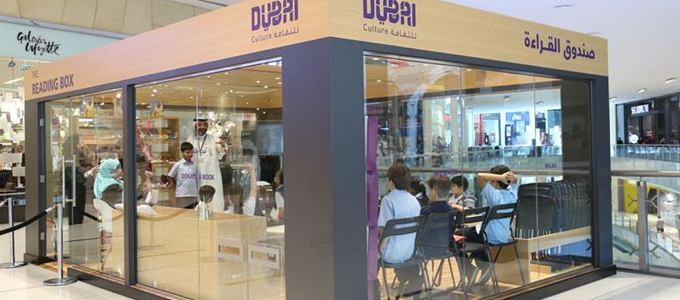 Dubai Culture Launches 'Reading Box'
Dubai Culture and Arts Authority (Dubai Culture), the Emirate's dedicated entity for culture, arts and heritage, announced the launch of its 'Reading Box' initiative that hold its first event at The Dubai Mall. This interactive public initiative will run across Dubai from 11 – 24 October in support of the UAE Government's Year of Reading – a national initiative which was announced by His Highness Sheikh Khalifa bin Zayed Al Nahyan, President of the United Arab Emirates, and supported by His Highness Sheikh Mohammed bin Rashid Al Maktoum, Vice President and Prime Minister of the United Arab Emirates and Ruler of Dubai.

The 'Reading Box' initiative is organised under the theme of 'Read, Enjoy, Thrive' and aims to translate the Authority's support of the national Month of Reading in October with a focus on promoting culture and reading to all communities in the UAE. The first event of this installation is being held at The Dubai Mall's, and will later take place at locations across Dubai in collaboration with a number of other organisations.