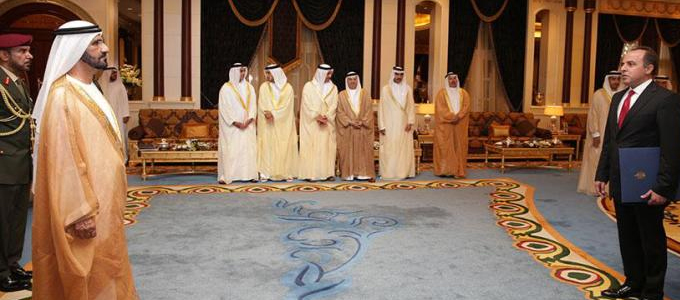 Vice president receives credentials of new ambassadors
Abu Dhabi: His Highness Shaikh Mohammad Bin Rashid Al Maktoum, Vice-President and Prime Minister of the UAE and Ruler of Dubai, yesterday (Sunday) received the credentials of new ambassadors of several countries to the UAE, at Al Mushrif Palace in Abu Dhabi this morning.

Shaikh Hamdan Bin Mohammad Bin Rashid Al Maktoum, Dubai Crown Prince, Lieutenant General Shaikh Saif Bin Zayed Al Nahyan, Deputy Prime Minister and Minister of Interior, Shaikh Mansour Bin Zayed Al Nahyan, Deputy Prime Minister and Minister of Presidential Affairs, and Shaikh Abdullah Bin Zayed Al Nahyan, Minister of Foreign Affairs and International Cooperation, were present at the meeting.

Shaikh Mohammad welcomed the new ambassadors, wishing them success in boosting cooperation and friendship between the UAE and their respective countries.

Shaikh Mohammad received the credentials of the ambassadors of Germany, Austria, Canada, Poland, Pakistan, Iraq, Turkey and Portugal.

"The UAE is your second home, and you and your families will live among a diverse Muslim community that believes in values of tolerance, justice and equality between different members of society without any discrimination. Everyone in the UAE shares a noble and humanitarian cultural and social bond," added Shaikh Mohammad.

Shaikh Mohammad then held discussions with the ambassadors on ways to bolster relations with their respective countries. He stressed that the doors of the UAE leadership, government and concerned bodies are always open if they ever feel the need to exchange views and hold discussions regarding topics that can expand avenues of cooperation between the UAE and their nations.