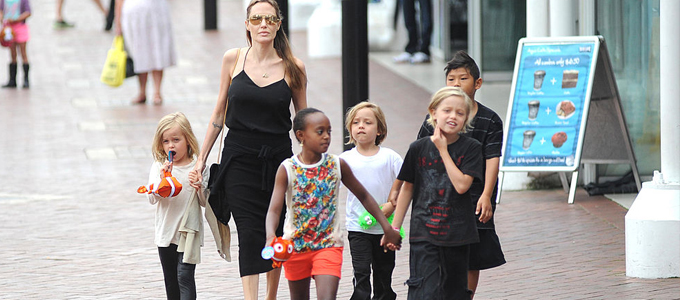 Angelina Jolie hiding in secret Malibu rental during Brad Pitt divorce
The 41-year-old actress applied to legally end her two-year marriage to the 52-year-old actor earlier this week, reportedly due to concerns over the way he parented their six children and an "incident" involving their oldest son Maddox, 15, on a private jet.

Though it was claimed she only told Brad of her plans days before submitting the legal paperwork, it appears it may have been something she had been planning for some time, having splashed out on a $95,000-a-month estate in Malibu.

According to DailyMail.com, the gated compound features five bedrooms and five bathrooms across 4,409-square-feet, and Angelina - who has Maddox and five other children, Pax, 12, Zahara, 11, Shiloh, 10, and twins Vivienne and Knox, eight with Brad - has security guards stationed at the entrance.

Meanwhile, the 'Moneyball' actor is believed to be staying at their estate in Los Feliz, which is around an hour away from the 'Maleficent' star's new home.

It had been reported that Brad was being investigated by the FBI over the alleged incident onboard the private jet, but it has been claimed it is highly unlikely he will face prosecution. Sources close to Brad have previously insisted that allegations of abuse against him are "exaggerated and fabricated" with sources close to the actor hitting out at the "smear campaign" against him.


"They are a solid family with two caring parents and a normal share of verbal disagreements like major households. "Hopefully people can move on and leave them all alone to work this out."

It has been claimed that Maddox stepped in when a row between Brad and Angelina became heated on board the flight from France to Los Angeles earlier this month.