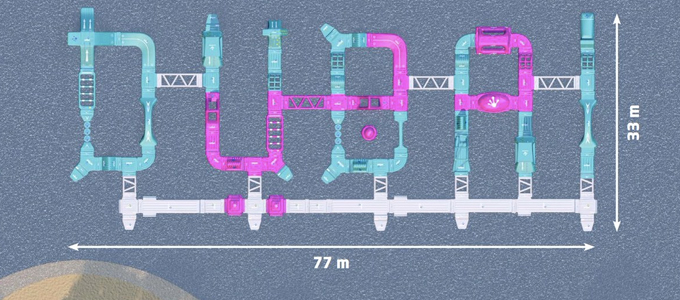 Dubai's new waterpark and its 'wiggle bridges'
Dubai never runs out of firsts. Last week the emirate welcomed another breakthrough: 'Dubai Waterpark at the Beach', said to be the world's biggest inflatable waterpark, which features an obstacle course with ramps, sidewalks, cliffs, towers, slides, 'wiggle bridges', curves and much more.

Emirati entrepreneur Ahmad Bin Chaibah, the park's owner, says he wants to showcase his love for his city by setting a world record with his creation. The waterpark's design is inspired by Dubai's official logo, "as a tribute to the city's creativity, innovation and dedication to its people".

The park is located at The Beach, opposite Jumeirah Beach Residence (JBR). Chaibah said the waterpark will stay at this venue for the next three years, although he did not disclose his plans for the park beyond that period. "This is the best iconic place to put the Dubai logo. Another year and a half the backdrop will be the Bluewaters project," says Chaibah, referring to the man-made mixed use island located off the coast of Jumeirah Beach Residence. "So it will be the best backdrop — with JBR, The Beach, and the Bluewaters Project."

Since its opening on September 1, Chaibah says the aqua park has received an overwhelming response.