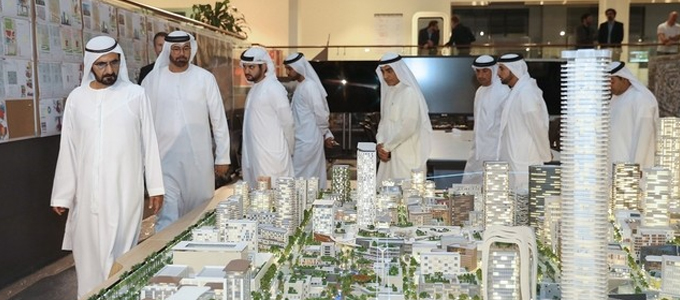 Sheikh Mohammed launches Jumeirah Central project in Dubai
Dubai Holding has announced the launch of a major new city district fronting Sheikh Zayed Road that will be home to up to 35,000 residents, will have 9 million square feet of retail space and 7,200 hotel rooms.

The Jumeirah Central project will contain 47 million sq ft of gross floor area along Sheikh Zayed Road. Dubai Holding has said the project will "introduce new international standards in city planning".

It will have "smart, world-leading infrastructure" including a multi-modal transport network that includes aerial gondolas, more than 1 million sq ft of climate-controlled arcades and a cycling network that will spread through 33 parks and open-air spaces.

There will be 25 points of access for cars into the district, which will also contain schools, offices and parking for 44,000 cars. The hotels will all be built in a new tourism destination known as Jumeirah Central.

The project was launched by Sheikh Mohammed bin Rashid, Vice President and Ruler of Dubai, at a private event that was attended by a number of senior Dubai Holding officials, but work on developing the project has involved 19 government and private agencies over a two-year period.

"As our vision for future cities evolves, Dubai will continue to set the benchmark for city development across the globe," Sheikh Mohammed said.

"Jumeirah Central is a clear milestone in our journey towards building the city of the future and the creation of engaged and happy communities. "We will not stop investing in our economy, and these projects are tools to expedite that journey of growth. We are confident in the strength of our economy and are optimistic for the future of our nation."

The chairman of Dubai Holding, Mohammed Abdullah Al Gergawi, said the company expects to start developing work for Jumeirah Central soon.