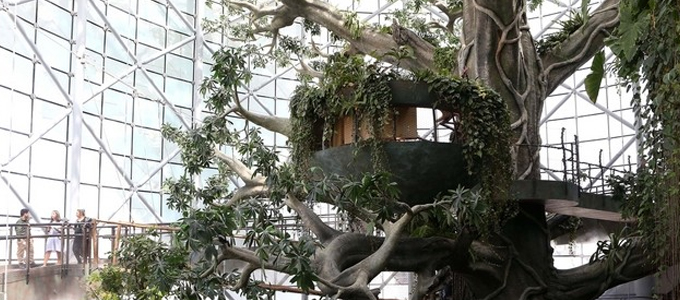 A taste of tropical in Dubai as indoor rainforest opens
It has been years in the making, now Dubai's very own tropical rainforest, complete with more than 3,000 species of plants, animals and free-flying birds, is ready to open to the public.

Porcupines, sloths, snakes, spiders and a huge array of exotic birds are just some of the species living within the confines of the Green Planet project, which opens at City Walk on Thursday at 10am.

Painstaking planning to ensure each exhibit had been sourced from responsible breeders from around the world left no stone unturned. It was also crucial that species were capable of coexisting in the hybrid environment.

Although the huge tree trunk in the project is artificial, each branch has planters packed with tropical flora and fauna. Eventually they will take over the structure to create a living, lush environment in which tropical species can thrive. It will be the world's largest fabricated, life-sustaining tree.

Eric Hupperts, a Californian wildlife expert who moved to ¬Dubai in January, is living exhibits manager and curator at Green Planet.

The Green Planet will offer 15 educational programmes across five topics and three age groups – 3 to 6 years, 7 to 11 years and 12 to 14 years.

Each is inspired by the learning objectives of the Ministry of Education. Programmes have been introduced to instil responsibility and a collective awareness of the environment among children. Tickets cost Dh95 for adults and Dh70 for children up to 12.