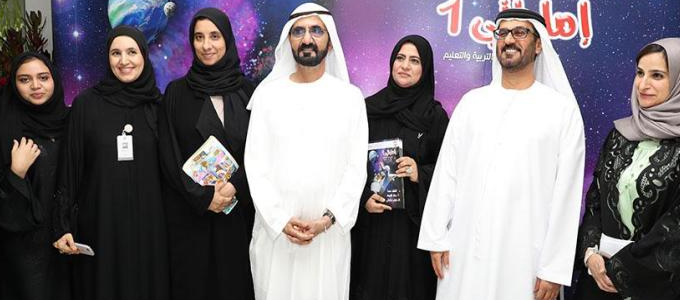 Vice President Pays Visit to Ministry of Education
Vice President and Prime Minister of the UAE and Ruler of Dubai, His Highness Sheikh Mohammed bin Rashid Al Maktoum, has approved a comprehensive new plan to overhaul public school education in the UAE.

The plan, developed by the Ministry of Education, aims to revise the curriculum, enhance skills, introduce new subjects and streams, further enrich learning and enhance the evaluation systems both for schools and students. H.H. Sheikh Mohammed reviewed the plan at the headquarters of the Ministry of Education today. He was received by Hussain bin Ibrahim Al Hammadi, Minister of Education; Mhammad bin Abdullah Al Gergawi, Minister of Cabinet Affairs and The Future Gergawi; Jameela bint Salem Al Muhairi, Minister of State for Public Education; and Dr. Ahmad bin Abdulla Humaid Belhoul Al Falasi, Minister of State for Higher Education.

The new curriculum will cover technology, innovative design, health sciences, career guidance, general skills and business management. A special 'Elite' stream designed to nurture gifted students will be introduced. In addition, a new system to evaluate students through mid-year and end-of-year exams will be implemented.

As part of the new plan, the curriculum will be gradually made bilingual and have a specific focus on deepening the students' national identity and building their critical thinking and innovation skills as well as developing teamwork and problem solving capabilities using innovative information and communication technology.