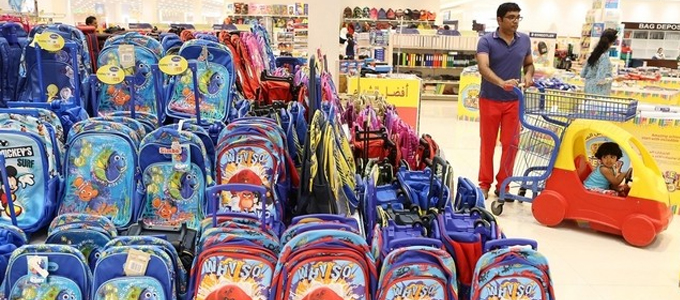 Families across the UAE getting ready for new school year
Briton Donna Limin is looking forward to the new school year more than her son Nikolai, 6, a pupil at Nord Anglia International School Dubai.

"He's really looking forward to going back and meeting up with his friends again," Ms Limin said. "I'm planning to enjoy the first week as much as possible and have arranged with some of the other mums to spend the week going to the beach, having lunches and visiting the cinema. "I will probably go back to helping my husband run his company once everything has settled.

"I will enjoy the peace and quiet." Iram Aziz, from the UK, said her three daughters were really excited to be going back to school. "We came back to Dubai on Tuesday from the United Kingdom and it's just a case of sorting a few things out before all the kids are back at school," Ms Aziz said.

Her eldest daughter, Aliyyah, 11, was at Dubai College this week for an induction to her new school. "I think we were more nervous than her," Ms Aziz said.

"It's a big change from her previous school so we went with her to give her a bit of support. "There are a few other pupils from her previous school who also moved to Dubai College so hopefully that will help her settle.

"The other two girls go back to school on Sunday. "It's good to get back into a routine for the children as that tends to go out the window during the summer holidays," she said.

It was not just the pupils and parents getting prepared for a return to the school year. Abu Dhabi Education Council was running workshops on curriculum subjects and professional development for school leaders and teachers in preparation for the academic year.