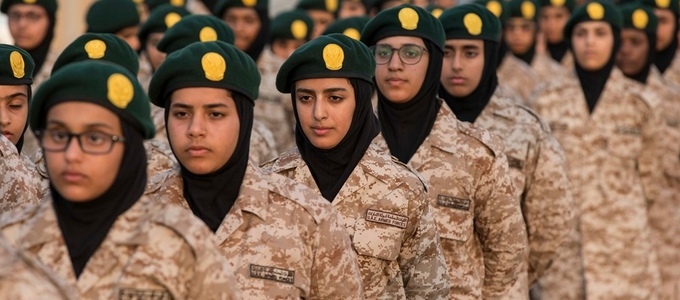 Shaikh Mohammad Bin Zayed expresses pride in young Emiratis
His Highness Shaikh Mohammad Bin Zayed Al Nahyan, Abu Dhabi Crown Prince and Deputy Supreme Commander of the UAE Armed Forces, on Wednesday attended the graduation ceremony of schoolgirls from the first-ever military summer camp at Khawla Bint Al Azwar Military School.

Shaikh Mohammad's daughter, Shaikha Hessa, and granddaughter were among the graduates. Shaikha Hessa Bint Mohammad Bin Hamad Bin Tahnoon Al Nahyan was also part of the batch.

During the graduation ceremony, Shaikh Mohammad expressed his pride in young Emiratis who invest summer holidays in useful activities. Shaikh Mohammad congratulated the graduates and their families.

"We felt proud as we saw sons and daughters of the nation utilising their summer vacation in useful activities," Shaikh Mohammad said following the graduation ceremony. ""We want military, educational and cultural activities that help build capabilities of the students and instill patriotism, values and ethics in them," he added." Shaikh Mohammad said.

A number of shaikhs and senior government officials also attended the ceremony.