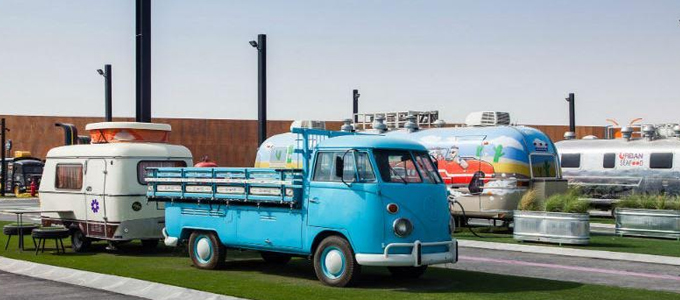 Meals on Wheels: Food Truck Park 'Last Exit' opens in Dubai
Dubai loves good food, and if food is being tossed right in front of you and served straight to your plate from the back of a truck, isn't that the best thing ever? Meals on wheels is making a pit-stop in Dubai. 'Last Exit' is your ultimate exit for a Gourmet Street Food experience.

It is a unique food truck park destination offering commuters and visitors alike a wide selection of fresh and tasty street food and many other convenient services in a fun atmosphere. Inspired by the American food truck stops, 'Last Exit' is the first of its kind in the region and serves breakfast, lunch, dinner or simply, a snack on the way – 24/7, seven days a week.

Located in Jebel Ali at Exit 11 on Sheikh Zayed Road from Abu Dhabi to Dubai, Last Exit is now open to the general public

Stop by' drivers are estimated to an average of 10,000 vehicles per hour – 1.68 million per week providing the destination with high potential footfall. Currently the destination is home to more than 11 Food & Beverage offerings such as Starbucks, Gourmet Burger, Brass, Operation Falafel, etc. and besides from a offering a gourmet bite, 'Last Exit' also offers a number of convenience, entertainment and leisure facilities for kids and adults; kids play area, attended washrooms, prayer rooms, a dedicated parking area, charge boxes, a minimart, ATM machines, 24 hours onsite security and much more.

Street food may seem like a recent phenomenon but believe it or not, food on wheels has quite the history when it comes to mobile meal stations. Consumers have been getting their food from portable venues for over 200 years. Beginning with a pushcart to the Chuck Wagon to a horse-drawn freight carriage to the famous 'roach coaches' to what we have today – gourmet food trucks.