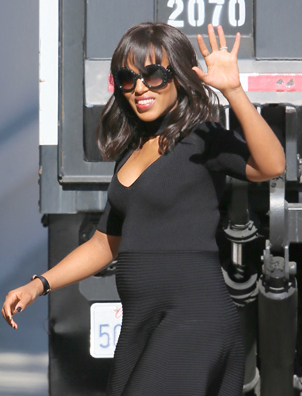 Inside Kerry Washington's Second Pregnancy: How the Scandal Star Is Staying Healthy
29-5-2016_ eonline.com / Showing off her baby bump in a figure-hugging black dress, the Scandal star was smiling from ear to ear and looking better than ever. Once again, pregnancy seems to truly agree with the 39-year-old actress.

"Kerry Washington [has] been feeling well with carrying her second child. "She is getting tired though more and is looking forward to the summer."

Kerry already has a daughter with husband Nnamdi Asomugha, so she knows what to expect as she heads into the final stage of her pregnancy. Though she doesn't have a "specific diet" she sticks to, she does make sure she keeps fit and watches what she eats.

"She has been working out with different yoga methods and eating healthy," our source adds. "She has always been very weight conscious so she knows exactly what she puts in her mouth all the time."

Clean living and exercise isn't the only thing the gorgeous mom is doing to prepare for the arrival of her second child. She is also surrounding herself with supportive friends and enjoying time with her family.

"Everyone that she works with has been really helpful," says the insider. "Kerry is in her third trimester at this point. Nnamdi would love a boy this time around if it happens! They are so in love with their daughter and can't wait to expand the family."

The fiercely private celeb doesn't often discuss her private life, but when she does, she can't help but gush over her home life.

"I will say I feel really, really blessed," Kerry said in an interview following the birth of daughter Isabelle. "I just feel really blessed that I'm kind of living extraordinary dreams come true in my work life and in my personal life."