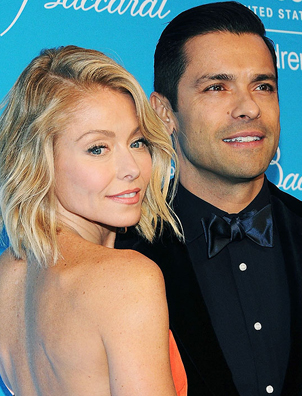 Kelly Ripa Celebrates 20th Wedding Anniversary with Sweet Instagram Shot
Ripa, who recently returned to Live! following what was supposed to be a celebratory vacation, paid tribute to the actor and their relationship with a sweet Instagram post on Sunday.

"The Roaring 20!" Ripa wrote alongside a photo of she and her husband sharing a smooch. "I love you @instasuelos #cheerstotwentyyears."

Ripa and Consuelos were wed in 1996, and share three children: Michael, 18, Lola, 14, and Joaquin, 13. During a recent episode of Live!, Ripa revealed that she pulled out her wedding dress during their tropical vacation, noting, "it still fits!"

"The story behind the dress is I bought it at the Barney's Warehouse sale," she explained. "The dress is 25 years old. My marriage is 20 years old. I didn't buy it as a wedding dress. I just bought it because it was really pretty, and I wanted to buy something from the Barney's Warehouse sale. I was working on the soap. I didn't make a lot of money. It was $199 on final clearance sale. 'Do I eat this week, or do I get this dress." Literally, this was the thought process."

She continued, "I said to myself, 'I bet if I buy this maybe it will be an investment piece. Maybe I will wear it more than once.' I swear to you I wear it constantly. It's a beach cover up now. I wear it all the time. It was the best $199 I ever spent in my life."

The past few weeks have not been without drama for Ripa, whose co-host Michael Strahan recently announced plans to leave the morning show for a full-time did Good Morning America. "The network does have a long roster of people who will step in to guest host. "They'll do the same thing they did when they found Michael ... they'll rotate a bunch of people in." Some of those people will include Anderson Cooper, Andy Cohen and Josh Groban.

Meanwhile, Sunday was a good night for Ripa and Strahan as they won outstanding entertainment talk show host for the Daytime Emmy Awards on Sunday.