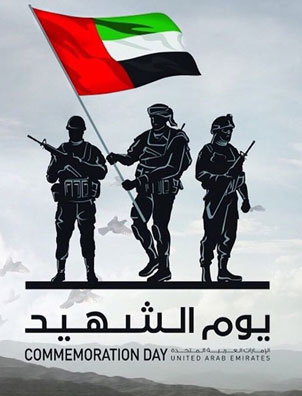 Fatima bint Mubarak: Commemoration Day /Martyrs' Day/ is a historical day for all Emiratis
ABU DHABI, 29th November, 2015 (WAM) -- H.H. Sheikha Fatima bint Mubarak, Chairwoman of the General Women's Union, GWU, Supreme Chairwoman of the Family Development Foundation, FDF, and President of the Supreme Council for Motherhood and Childhood, has said that Commemoration Day is a historical day for all the sons and daughters of the nation, and a day that the mothers of martyrs and their families will remember for all eternity.

In a speech on the occasion of Commemoration Day, which is marked on November 30th, H.H. Sheikha Fatima said that the decision of President His Highness Sheikh Khalifa bin Zayed Al Nahyan to establish the day of remembrance is an expression of great honour by the leadership for those who gave their lives in defence of the homeland, by honouring and immortalising their memory.

Sheikha Fatima added that the Emirati woman is dedicated to the service of her homeland and will offer her life for her country, whether through military service or by joining the ranks of the Armed Forces, at home, school, or the workplace, always raising the UAE flag high between nations.

She went on to say that Commemoration Day is a milestone in the history of the UAE, under the wise leadership led by President His Highness Sheikh Khalifa, who decided to mark the anniversary of the day close to UAE National Day in order for the martyrs to remain in the memory of the nation and its people, in appreciation and gratitude for sacrificing their precious lives in defending the homeland.

Sheikha Fatima also said that the Emirati women should be proud of these heroes and precious sons who sacrificed their lives for the nation, adding that the UAE's wise leadership has spared no effort to promote basic human rights in general and women's rights in particular, and this unparalleled support for women, said Sheikha Fatima, encouraged Emirati women to raise their children with love for the nation and a readiness to defend it, being the first to answer the call of duty and lay down their lives for the cause.