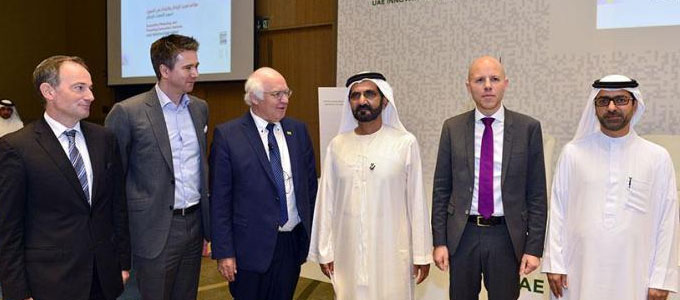 Mohammed bin Rashid Al Maktoum launches first innovation fund worth AED 2 billion
DUBAI, 24th November, 2015 (WAM) -- Vice President and Prime Minister and Ruler of Dubai, His Highness Sheikh Mohammed bin Rashid Al Maktoum, today launched the 'Sheikh Mohammed bin Rashid Al Maktoum Fund to Finance Innovation', worth AED 2 billion. The fund is designed to provide financing solutions for innovators across various sectors within the UAE, and support them in transforming ideas and suggestions into innovation projects which will contribute to the country's national innovation strategy and to achieving the UAE Vision 2021.

The Sheikh Mohammed bin Rashid Al Maktoum Fund to Finance Innovation is a federal government initiative represented by the Ministry of Finance, MoF. The programme has been established to enhance funding opportunities in areas of innovation, by providing reasonable funding to entrepreneurial innovators and guaranteeing access to commercial loans required to finance their projects. It will also contribute to creating a supportive environment for innovation through the collaboration of various financial institutions and funding entities within the UAE, including commercial banks, investment funds, family businesses and other funding entities.

The announcement of the fund's launch was made today, during the Financing Innovation and Innovative Financing conference, which was hosted by the Ministry of Finance at the Sofitel Dubai Downtown Hotel, as part of the ministry's participation in UAE Innovation Week. The conference was held in the presence of H.H. Sheikh Hamdan bin Rashid Al Maktoum, Deputy Ruler of Dubai and UAE Minister of Finance, Obaid bin Humaid Al Tayer, Minister of State for Financial Affairs, and a number of ministers and heads of local federal entities. Younis Haji Al Khoori, Under-Secretary of MoF, assistant under-secretaries, heads of departments, and employees also attended the conference, on behalf of the MoF.

Al Tayer said, "This pioneering innovation initiative goes hand-in-hand with the vision of our wise leadership to enhance the innovation approach in order to achieve sustainable development, and its goals to establish the UAE as one of the most innovative countries in the world by 2021. The UAE, represented by the Ministry of Finance, has established the Sheikh Mohammed bin Rashid Al Maktoum Fund to Finance Innovation to provide a suitable environment for innovation and support innovative entrepreneurs, by offering them the necessary funding to establish, manage and develop their innovative projects."

Al Tayer added, "The Ministry of Finance is entrusted with the role of managing and supervising the fund through a comprehensive programme which provides financing solutions to innovators within the UAE, and supports growth and innovation, specifically across the seven sectors outlined in the national innovation strategy. This fund is considered one of the most important financing tools in the region. It is expected to play a significant role in driving growth and economic development within the UAE, and in strengthening the country's position on both a regional and global level."

Al Tayer continued, "We are confident that the fund will achieve its goal to facilitate access to financing solutions for innovators, at a reasonable cost. We look forward to supporting the fund by providing both financial and non-financial services to enhance processes, and improve performance in line with the Ministry and federal government's objective to encourage and support innovation in the UAE."

Capital will be allocated to the fund to create new ways and means of financing innovative projects through commercial banks and financial institutions, in accordance with specific criteria and standards. This information is available during UAE Innovation Week at MoF's stand in Yas Mall, Abu Dhabi, and City Centre Mirdif in Dubai. In time, the Ministry will provide all documents and information to those requesting funding.