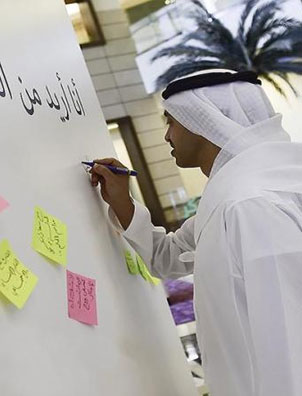 Abdullah bin Zayed participates in UAE Innovation Week
ABU DHABI, 24th November, 2015 (WAM) – H.H. Sheikh Abdullah bin Zayed Al Nahyan, Foreign Minister, has taken part in the activities of the Ministry of Foreign Affairs (MoFA) at the UAE Innovation Week, which will conclude next Thursday.

The MoFA's participation translates the announcement of 2015 as the Year of Innovation by President His Highness Sheikh Khalifa bin Zayed Al Nahyan and the directives of Vice President and Prime Minister and Ruler of Dubai, His Highness Sheikh Mohammed bin Rashid Al Maktoum, to hold the UAE Innovation Week.

Sheikh Abdullah wrote his proposal at the "Innovation Wall", which was designed at the hall of the ministry in Abu Dhabi. He also invited all MoFA staff and visitors to present their proposals pertaining to their aspirations towards the UAE diplomacy under the slogan, "I want from the diplomacy".

Dr. Anwar bin Mohammed Gargash, Minister of State for Foreign Affairs, participated in the event.

In a related context, the MoFA activities yesterday organised a number of initiatives and forums as well as interactive workshops for innovation and creativity for the staff of the ministry and the public. The ministry has also organised a ''Creativity in Diplomacy" exhibition aimed to get an insight with best practices in innovation and creativity in the field of diplomacy from various accredited diplomatic missions in the country.

China also participated in the event through its diplomatic innovation experience. The Consular Services and Citizens Affairs department at the ministry has reviewed the most important administrative and e-consulate services provided to UAE citizens inside and outside the country. It also shed light on the most important consular services and procedures at the ministry.

During the ''Creativity in Diplomacy", Mohammad Mir Abdullah Al Raisi, Acting Under-Secretary of the Ministry of Foreign Affairs, launched the '' Innovation System" which is deemed a platform for creativity as it encourages staff to look for exceptional solutions to address all obstacles.

The ministry also organised a panel discussion under the title, "Orientalism of the Future", which focussed on the ministry's role at the regional and international levels and the importance of promoting the diplomatic field to enhance the country's stature as a regional player in various fields, especially in light of developments in the region and the world changes.

Under-secretaries and assistant foreign minister, heads of departments and others at the Ministry of Foreign Affairs attended the panel discussion.

During the discussion, they exchanged views on the role played by the UAE diplomacy, the importance of enhancing it in various fields as well as the importance of innovation in the development of UAE diplomacy.