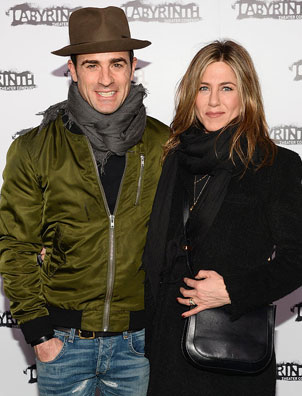 Jennifer Aniston and Justin Theroux Still Have That Newlywed Glow
Jennifer Aniston and her husband, Justin Theroux, opted for a sweet couple's arrival at the Labyrinth Theater Company's annual celebrity charades gala in NYC on Monday. The event features a handful of stars playing a game of speed charades and benefits the theater's development programs and productions. Jennifer and Justin kept close while posing for photos and were joined by pals Jerry O'Connell andJustin Long. Also in attendance were Padma Lakshmi and Bobby Cannavale, who is expecting his first child with girlfriend Rose Byrne.

Jennifer recently made headlines when she appeared in an Instagram snap with Justin Bieber last week. While it's unclear exactly where the picture was taken, Justin had been guest starring on The Ellen DeGeneres Show, where Jennifer later surprised Ellen DeGeneres for the 2,000th episode of her show.