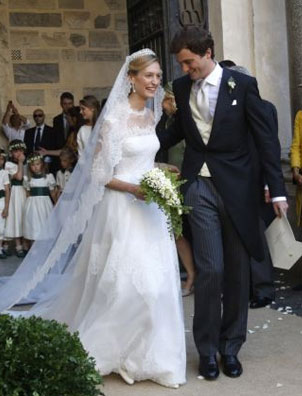 Prince of Belgium Gave Up His Right to the Throne to Marry Italian Aristocrat
During the Wimbledon tennis championships this summer Prince William and wife Kate appeared to be still very much smitten with each other, spending their time on Centre Court giggling and sharing tender moments as the drama unfolded on the grass.

But their crown as the most loved-up royal couple may be under threat from handsome Belgian Prince Amedeo and his Italian aristocrat wife Elisabetta Maria Rosboch von Wolkenstein, who are celebrating their one year wedding anniversary this month.

Amedeo, 29, and 27-year-old "Lili", as she prefers to be known, wed in Rome in July 2014 in an elegant, intimate ceremony at The Basilica of Our Lady in Trastevere.

But in gaining a wife the romantic Belgian prince lost his right of succession to the throne.

Amedeo was sixth in line, but by failing to obtain a royal decree for the marriage from his uncle King Phillipe he has given up his place, as confirmed by the palace this week.

According to The Times, palace sources claim that the prince chose to deliberately give up his right to the throne so that he could live an independent life with wife Lili, free of any official role.

Instead of Princess of Belgium, Lili will be known as the Archduchess of Austria and Princess of Hungary, titles that pass to her via the prince's father Lorenz, the Archduke of Austria-Este.

Amedeo is the eldest grandchild of the abdicated King Albert II and Queen Paola of Belgium and the son of the sister of King Philippe, who ascended the throne last year following the abdication of King Albert II.

Although he attended the wedding, King Philippe had not expressly given his permission for the union, and the marriage had not been officially gazetted in the Moniteur Belge with a decree giving "dynastic authorisation."

The wedding itself was a family affair, with Prince Amedeo's grandparents - King Albert II and Queen Paola - and aunt and uncle - King Philippe and Queen Mathilde - all in attendance.

Lili, who arrived at the ceremony with her father Ettore Rosboch von Wolkenstein, wore a sweeping white wedding gown complete with veil and tiara and natural, dewy make-up.

The couple, who live together in New York, had been dating for around seven years before they became engaged and the news was officially announced in February 2014, shortly after the couple were blessed by the Pope at the Vatican alongside hundreds of other engaged couples.