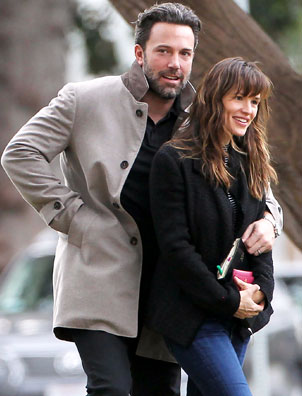 Ben Affleck and Jennifer Garner Confirm SPLIT!
Ben Affleck and Jennifer Garner have officially split just one day after their 10th wedding anniversary. The couple, who married on June 29, 2005, confirmed they are divorcing to DailyMail.com on Tuesday. The pair have three children together; Violet, nine, Seraphina, six, and Samuel, three.

In a joint statement, the couple said: 'After much thought and careful consideration, we have made the difficult decision to divorce. "We go forward with love and friendship for one another and a commitment to co-parenting our children whose privacy we ask to be respected during this difficult time. This will be our only comment on this private, family matter. Thank you for understanding".

When it comes to splitting their assets, the duo - who are reputedly worth $150m - are reportedly using a mediator and business managers to work it all out before the divorce and will share custody of the kids, says TMZ.

The website reports that there is no prenup in place but they have both amassed a fairly equal amount of wealth where it is unlikely Garner will be granted spousal support.

While their 10-year-anniversary has now passed - which usually means a judge would give her more financial support due to the length of the marriage - TMZ reports their decision had nothing to do with it and claims she doesn't need support.

Property at stake during the divorce will be the duo's LA ranch in Pacific Palisades, their Manhattan apartment, a ski chalet at Yellowstone Club in Big Sky, Montana and their 83-acre estate on Hampton Island near Savannah, Georgia.

Extra have reported that the couple are committed to co-parenting their three children and Affleck is still living at home for the time-being. The split announcement follows months of speculation about the state of their marriage. In late May, numerous publications including OK! Magazine and National Enquirer reported that the pair's relationship was on the brink of collapse. The Enquirer claimed they had already separated and were heading for a $150 million divorce.

A source told Us Weekly that the pair had tried to resolve their issues, by talking it out with a counselor, for a very long time. "Jennifer and Ben have been in therapy for years," the source said. "They each go separately, and they also go together. When things are rough, they go more often".

Many had observed that they couple had been spending more and more time apart with the Gone Girl star spotted playing high-stakes poker for several hours in Las Vegas on May 3.

He was again spotted gambling in Sin City in the early hours of May 14 while his wife was in New York, suggesting that the actor had left the children with a babysitter.

Affleck's fondness for gambling became the subject of headlines last year when he was banned from a blackjack table in Las Vegas and was quick to deny rumours he had an addiction problem in an interview with Details magazine. On Garner's birthday on April 17, Affleck was reportedly seen on a solo trip in Canada without his wedding ring.

But the pair put on a united front in June, making several public outings together with their children.