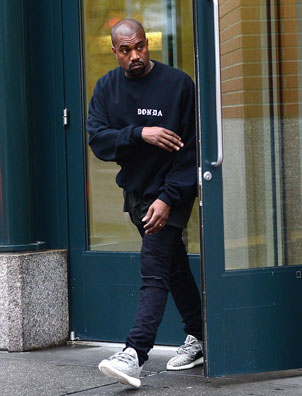 Kanye West Wears His "Donda Tribute Top" Eight Years After Her Death
It's been nearly a decade since Kanye West laid his mom to rest.

But that hasn't stopped the 37-year-old rapper from sporting a sweatshirt honoring her.

The husband of Kim Kardashian was spotted in the Soho district of NYC on Tuesday with the black pullover that had his mother's first name Donda in white on the front.

On the back her name appeared in full also with the words "Forever in our hearts" and "only one."

The Gold Digger singer also had on ripped black jeans and sparkly white sneakers.

His mood looked downcast, perhaps because he had been at the CFDA Fashion Awards with wife Kim the night before and didn't get enough rest.

It's certainly not the part-time designer has worn the tribute top.

Back in March he stood alongside Jay-Z at the launch of his new music streaming service, Tidal, wearing the sweatshirt.

He was also spotted wearing the same top while on his way to dinner at the Ferdi restaurant in Paris in mid April.

On November 10, 2007, at approximately 7:35 pm, paramedics responding to an emergency call transported West's mother, Donda West, to the nearby Centinela Freeman Hospital in Marina del Rey, California.

She was 58-years-old when she passed.

Donda died while undergoing liposuction and breast reduction in 2007.

The Los Angeles County coroner's office said in January 2008 that the rapper's mother had died of heart disease while suffering "multiple post-operative factors" after plastic surgery.

It was reported that Beverly Hills plastic surgeon Andre Aboolian had refused to do the surgery because West had a health condition that placed her at risk for a heart attack.

On Tuesday Kim - who is pregnant with her second child - was also seen leaving the same building as Kanye. She was wearing a see-through green tank dress.

But hours later the 34-year-old showed up in Nashville for an event wearing a tight pink dress. West did not seem to be in attendance.