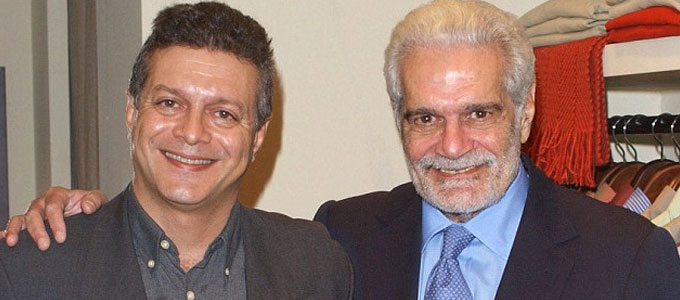 Legendary Actor Omar Sharif Has Alzheimer
Hollywood actor Omar Sharif is suffering from Alzheimer's disease and gets confused when remembering some of the biggest films of his career, his son has claimed.

Tarek El-Sharif, the only child of the star's marriage to ex-wife Faten Hamama, said his 83-year-old father mixes up the names of his best-known films - Doctor Zhivago and Lawrence of Arabia - and often forgets where they were filmed.

Mr El-Sharif also revealed that while his Egyptian-born father knows he is a famous actor, he confuses fans who ask him for autographs for people he used to know.

Mr El-Sharif made his frank confession during an interview with respected Spanish newspaper El Mundo.

The revelation follows rumours Oscar-nominated Sharif, star of David Lean's 1962 movie Lawrence of Arabia and the British film director's 1965 film Doctor Zhivago, had quit acting because he could not remember his lines.

A spokesman for Sharif reportedly dismissed claims two years ago that he was struggling with Alzheimer's and dementia as "mere lies."

She told a magazine the only thing the actor was suffering from was extreme fatigue and a broken heart over the problems of his native Egypt, where he now spends most of his time.

Sharif himself admitted in an interview in July 2013 that he tended to forget a lot of things but presented it as a positive because it meant he didn't dwell on the past or future and thought purely of the present.

Mr El-Sharif, who appeared in Doctor Zhivago as Yuri at the age of eight, told El Mundo in interviews in El Cairo: "My father has Alzheimer's. It's difficult to determine what stage it's at." "It's obvious he'll never improve and it will get worse."

"There are times of the day when he's better and others in which he feels confused."

"He knows who he is but not necessarily the reason people greet him. When someone seems him in the street and approaches him, he often thinks it's someone he used to know whose name and face he's forgotten when most of the time it's just a fan."

"He still knows he's a famous actor. The loss of memory affects above all specific things, details like when he was in a specific place or who he acted with in a specific film."

"He remembers for example that it was Doctor Zhivago but he's forgotten when it was filmed."

"He can talk about the film but he forgets its name or he calls it something else instead like 'Lawrence of Arabia.''

The confession is the first by anyone in Sharif's close circle to confirm that the actor is suffering from Alzheimer's.

Mr El-Sharif said he began to suspect his father was suffering from the disease around three years ago but confessed the actor has not recognised he is ill and refuses to do exercises to slow its advance.

He also admitted that his father asked: 'How is Faten?' days after the ex-wife he converted to Islam to marry, died on January 17.

The funeral of the Egyptian actress and producer was attended by thousands of mourners including Egypt's Minister of Culture Gaber Asfour and former presidential candidate Amr Moussa - but not Sharif.

Mr El-Sharif told El Mundo that his father inquired about Faten's wellbeing days after he had personally told him of her death. The pair were married for 19 years until their divorce in 1974.

Sharif - born Michel Demetri Chalhoub - spends much of his time in hotels in Egypt. He is currently thought to be staying at a hotel in El Gouna, a tourist resort on the Red Sea which specialises in watersports including scuba diving and windsurfing.

Mr El-Sharif said his father's daily routine consisted of relaxing on his terrace after breakfast and listening to live music in the hotel bar at night-time.

He revealed he felt 'insecure' when he left the hotel and often refused to come out of his room.