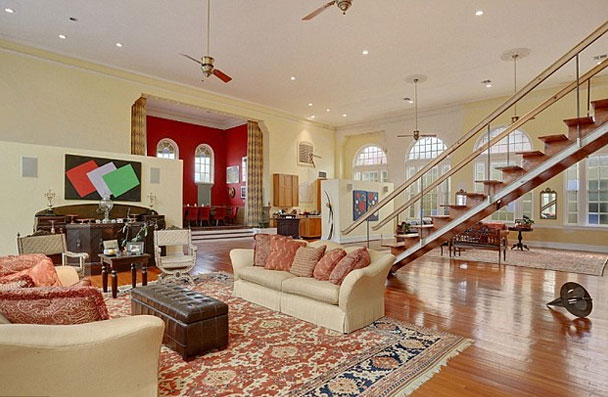 Beyonce and Jay Z Plunk Down $2.6m for Historic Spanish Baroque Home
One can imagine the Mardi Gras parties at this lavish home that Beyonce and Jay Z reportedly just bought.

The power couple has scooped up a historic, 1925-built mansion in New Orleans' Garden District named La Casa de Castile for $2.6 million, according to E! News.

That would seem a relatively modest sum compared to the $6.5 million Brad Pitt and Angelina Jolie are asking for their French Quarter pad.

Something in the luxurious open floor plan must have appealed to Bey, 33, and Jay, 45.

Beyonce's lofty 22-room home comes with three separate apartments in 13,292 square feet.

Other eye-catchers include gorgeous hardwood floors from top to bottom, rich red detailing, elaborate chandeliers and an alluringly antique claw-foot tub.

The property, which was originally the Westminster Presbyterian Church and then a ballet studio, includes seven bedrooms and eight bathrooms in three amazing stories.

Another enticing feature is the rooftop garden - said to be the largest in all New Orleans - that helps to keep the rooms below cooler in summer while providing excellent city views.

The mansion also boasts 24-foot ceilings, and an open-concept staircase leads to the upper stories.

A hot selling point could be the marvelous acoustics that give off a musical vibe, something that record producer Jay Z would appreciate.

The master suite seems fit for a queen with romantic chandelier, deep red walls and tall windows.

And the master bath - besides the remarkable bathtub - has a floor laid out in gorgeously designed tile and a crescent-shaped window bathes the space in light.

One of the guest bedrooms features deep blue-purple walls and white trim, while another features burnished golden walls and white wood trim.

The main kitchen features smooth cabinets, marble granite countertops and rustic tile flooring, while tall windows allow the light to shine through.

One of the other separate in-house residences includes a more quaint kitchen with white cabinetry and blue countertops.

According to Nola.com, records indicate that the property was sold in January to Sugarcane Park LLC, which is Beyonce's management company.

Beyonce and Jay Z have been frequent visitors to the Crescent City in recent months.

The singer's sister Solange Knowles owns a home there and a boutique in the French Quarter.

In 2013, Beyonce performed during the Super Bowl half-time show, and shared snaps of her favourite sights of the city on Instagram.