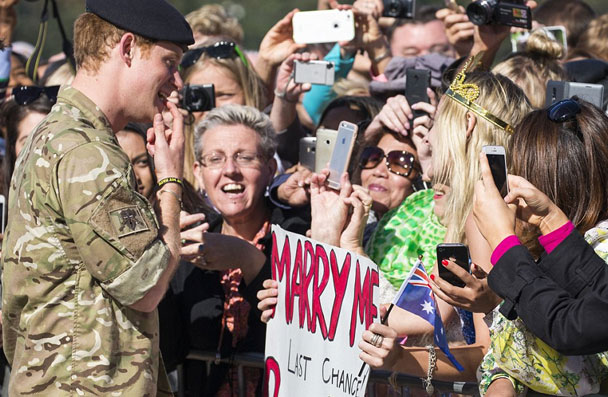 The Moment Cheeky Blonde Asked Prince Harry to Marry Her
This is the moment a cheeky blonde asked Prince Harry to marry her and ended up locking lips with the blushing royal.

Victoria McRae, 21, was dressed in a sequined Australian flag mini dress and tiara as she asked the fifth in line to the throne to marry her outside the Sydney Opera House on Thursday.

But when he politely said he would have to get back to her, she asked for a kiss instead.

"He let me kiss him on the cheek but then I went in for it. The rest was history," Ms McRae said. "It was amazing, it's meant to be, there's a lot of chemistry there I'd say."

"I said I'd proposed twice before, that it was my third time lucky, and my sign said last chance so I said have a think about it."

"I kissed the premier (Mike Baird) too but I didn't know who he was. They had to tell me that. Harry was better to kiss and I got Harry's lips, I only kissed the premier on the cheek."

Prince Harry arrived at the Sydney Opera House to greet thousands of fans on Thursday morning as his month-long Australian military deployment comes to a close.

"I thought we were going to turn up and there would be 10 people there, so it's a wonderful opportunity for me to say thank you to them, they have made me feel so at home here," Prince Harry told reporters.

"It's going to be hard to leave - I don't want to go home, I want to stay here."

Asked about the kiss with Ms McRae, Prince Harry cheekily replied: "I got more than one kiss".

Wearing army fatigues and a black beret, the fifth in line to the throne disembarked from a boat at the Opera House just after 12:30pm and spent time talking, shaking hands and taking photos with fans.

He then travelled to Sydney's Macquarie University Hospital to visit British solider Ali Spearing who is being fitted with prosthetics after losing both legs while on deployment in Afghanistan in 2011.

"The surgery went really, really well, He is over the moon and thrilled to bits to be up and walking on a new set of legs," he said.

Prince Harry told reporters at the hospital he was looking forward to meeting his new niece Princess Charlotte and said: "I've been given a lot of cuddly toys from this morning" to give to her.

He also joked about the media keeping the public up to date on his eating habits this past week after he was photographed ordering hamburgers and pork rolls from local eateries.