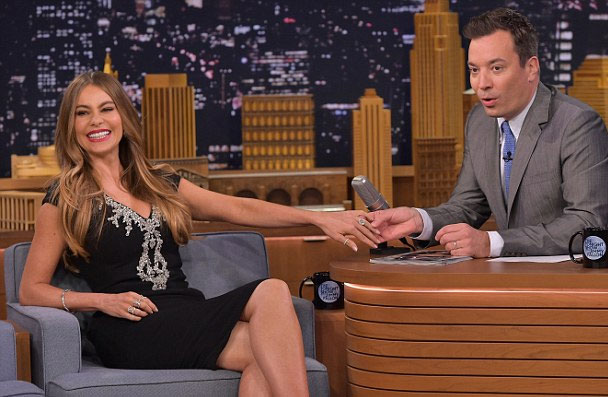 Sofia Vergara Shows Off Diamond Engagement Ring
On Monday night she looked ready to walk down the aisle in a chiffon Marchesa gown with gold embroidery and a flowing train as she graced the Met Gala.

The next day Sofia Vergara batted it out of the park again as she rocked a little black dress with silver embroidery. The 42-year-old star was showing The Tonight Show's Jimmy Fallon the blingy diamond engagement ring her fiancé Joe Manganiello slipped on her finger on Christmas day.

The talk show host ooohed and aahed appropriately as he held the beautiful Modern Family actress' hand.

The Colombian star also showed off her decolletage in the LBD, which featured a plunging neckline. And she teamed her elegant outfit with black platform pumps with towering high heels.

The previous day she had publicly chided her ex-boyfriend Nick Loeb over his frozen embryos lawsuit on The Howard Stern Show on SiriusXM radio.

Nick is seeking control of two frozen embryos the couple created before their split last year.

Sofia claimed that Nick twice signed a fertility contract during their unsuccessful attempts to implant an embryo, and that he was well aware of his rights.

Furthermore, she claimed that Nick was only engaging in this behavior and lawsuit because he "hates" her.

She told Howard that she didn't believe it was wise to go forward with having a child if the parents were not in a loving relationship.

"More than a mother it needs a loving relationship," Sofia said of a child. "Parents that get along, that don't hate each other."

Nick, 39, penned an editorial last week in The New York Times stating his reasons for pursuing the embryonic custody dispute.

He claimed that in 2012, one embryo was implanted into a surrogate, but it didn't take.

The couple then tried a second time he said, but the surrogate miscarried.

"I asked her to let me have the embryos, offering to pay for all expenses to carry our girls to term and raise them," said Loeb. "She has refused."

Sofia also told Howard that she planned on getting married to Joe in a "protected" place free from prying eyes with her Modern Family co-stars and Hot Pursuit co-star Reese Witherspoon all invited.