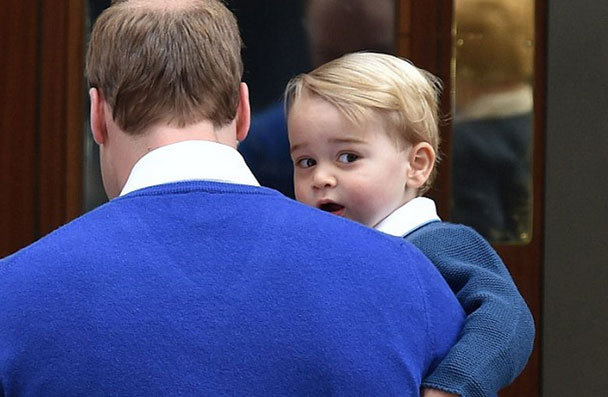 Big brother George Almost Stole the Show From the Princess
Never mind the new baby, even though she is a right royal cherub.

It was Prince George Alexander Louis who stole the royal show on Saturday, when he turned up to say hello to his baby sister for the first time.

A fusillade of ooohhs! and aaaaaahs! from the spectators greeted his surprise appearance with his daddy at the Lindo Wing. And no wonder.

Prince George may be third in line to the throne, but he sure is the uncrowned king of cute.

For a start, he was dressed in a deliciously old-fashioned, little boy blue outfit, right down to his buckled navy leather shoes from Start-rite (style Jo, £36) and his knee-high socks, one of them crumpled halfway down his chubby shin.

Some of George's clothes were from Amaia, a children's boutique in West London, which is a favourite of the Duchess of Cambridge.

It was there that she bought George's socks (£7) and button-through cardigan in duck blue (£34). His shirt and shorts set (£59) were from the upmarket children's designer, Rachel Riley. Ramping up the charm factor was the fact that the father-and-son royals were decked out in similar outfits, each with a white shirt under a lookalike woollie.

George's shirt had a Peter Pan collar and was piped in blue, William's was plain and classic — but together the Princes were an overload of adorable, a double helping of darling.

They could have been a couple of swells posing on the cover of an aristocratic knitting pattern from the Forties. See inside for how to knit your own air raid shelter.

That was not the only nostalgic blast from the past. With his shock of honey blonde hair and dumpling cheeks, the 21-month-old royal is the absolute image of his father at the same age.

There is barely a dimple of difference between Prince George now and Prince William making the same trip 30 years ago to meet Prince Harry for the first time.