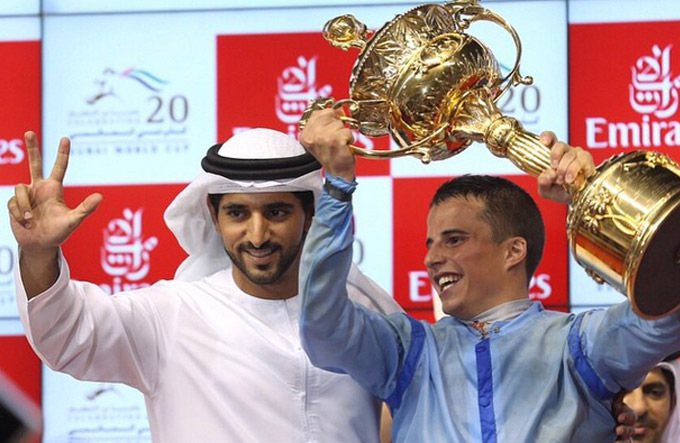 Prince Bishop wins Dubai World Cup 2015
Prince Bishop caused a huge upset at Meydan racecourse on Saturday when he won the $10 million Dubai World Cup ahead of rags-to-riches American challenger California Chrome.

It was Dubai trainer Saeed bin Suroor's seventh victory in the world's richest race, yet few have been as surprising.

Bin Suroor's first-choice jockey, James Doyle, chose to ride stablemate African Story, which won the race 12 months ago.

English jockey William Buick stepped into the breach and had Prince Bishop well placed throughout.

He moved his mount forward rounding the turn for home and quickly took California Chrome's measure.

The winning horse is owned by Shaikh Hamdam Bin Mohammed Al Maktoum, Crown Prince of Dubai and Chairman of the Dubai Sports Council.

He had run in four previous World Cups, finishing ninth last year, seventh in 2012 and tenth the previous year.




فيديو | لحظة تتويج (برنس بيشوب) الفائز بـ #كأس_دبي_العالمي https://t.co/oGmLP6iQJ0 #DRWorldCup #DWC15 pic.twitter.com/fMqQUCET86

— مؤسسة دبي للإعلام (@dubaimediainc) March 28, 2015