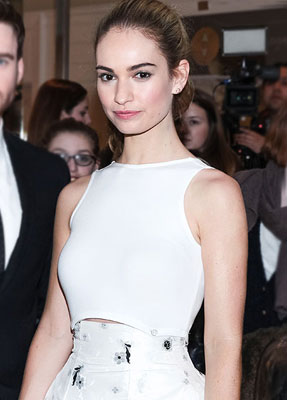 Cinderella's Lily James Calls Discussion of Her Waist 'Upsetting' and 'Just Boring'
Lily James is ready to put an end to the discussion of her Cinderellawaistline once and for all.

The British actress, 26, joined her costar and Prince CharmingRichard Madden, 28, for an interview with HuffPost Live on Monday, during which she admitted she never realized the controversy over her Cinderella figure would stir up so much reaction.

"On one hand, it's upsetting. On the other hand, it's just boring," James said. "Why do women always get pointed at for their bodies?"

James, who has previously emphasized that she is naturally thin and healthy, also questioned why she should have to justify herself in the first place: "International Women's Day has just gone, and it just feels just a bit sad that it's still happening," she told the news outlet.

Cinderella costume designer Sandy Powell also recently defended the actress, explaining that the corseted blue ball gown, worn on James's slender frame, created an exaggerated slimming effect.

"It's exaggerated by the proportion of the dress," Powell said. "The diameter of the skirt is so enormous, and it's also broader at the shoulders. That's drawing your eye right to that tiny waist."

And her Prince Charming was happy to come to her rescue during the new interview. "That's her real waist," Madden told HuffPost Live. "I held it, I know how tiny it was. And she did eat. She eats like a boy," he joked.