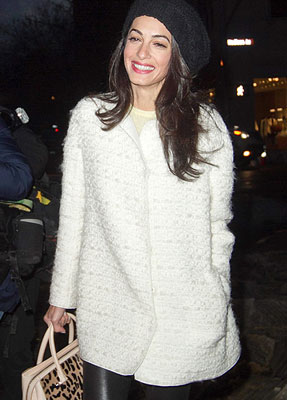 Amal Clooney Steps Out in N.Y.C. After Landing a Gig at Columbia
Amal Clooney didn't spend another freezing New York City night indoors – she hit the Upper East Side for a night out on the town.

The 37-year-old's Friday outing came just a few hours, Clooney would join Columbia this spring as a visiting faculty member and as a senior fellow with the Law School's Human Rights Institute.

"I look forward to getting to know the next generation of human rights advocates studying here," Clooney said in a statement.

The London-based lawyer and husband George Clooney, 53, will be tackling the city together: while she's in the classroom, he'll film in the city for Money Monster, which also stars Julia Roberts and will be directed by Jodie Foster. George was also spotted out on Friday night, but not alongside his wife.

At a charity gala at the Lincoln Center on Monday, George flubbed a lineabout the number of countries in the world – then reminded the audience, "My wife's the smart one." He told Extra that night that she was too busy to join him for the evening. "She's trying to get a guy out of prison in Egypt I think," he said, referring to her high-profile case involving an imprisoned Al Jazeera journalist in Cairo. "So she's working."