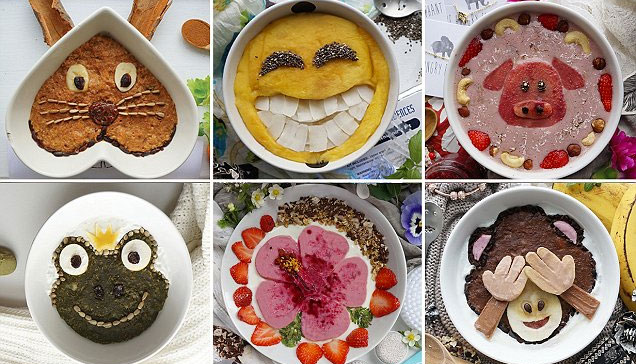 Morning Meals To Put a SMILEY On Your Face!
They say that breakfast is the most important meal of the day but as one budding food artist has proved, your morning fuel needn't be boring.

Heather Adamson, 22, appreciates this more than most, making it her daily quest to combine a love of breakfast with her favourite emojis - with comical results.

Using a combination of fruit, oats and other ingredients, the Scottish health food blogger recreates the popular message characters as breakfast dishes to show "healthy eating doesn't have to be boring."

Her Instagram account, Fresh Heather, showcases her creations, which among many other designs include a cartoon monkey, rabbit and a bumble bee.

Also a graphic designer, Heather uses finely-chopped fruit for aspects such as flower petals, seeds for eyes and desiccated coconut for the borders of her dishes.

Heavily detailed, these creative and colourful dishes have garnered Heather a whopping 115,000 followers on Instagram.

With each of her breakfast posts on social media, Heather accompanies it with details of the healthy ingredients used.

One dish mirrors the iconic smiley face emoji, which is widely used on text message keyboards on mobile phones. Heather used banana oats topped with mango, chia and coconut chips.

Other starts to the day include a rabbit face complete with whiskers, which is made of carrot cake oats, with added cinnamon, coconut sugar, maca, vanilla raw protein powder and nutmeg.

Speaking to FEMAIL, Heather explained that the emoji phenomenon came about when she began posting themed oat creations.

She says: "Last year, myself along with a few other accounts on Instagram hosted a weekly oat challenge where we would do a different theme each weekend revolving around oats."

"One weekend I made carrot cake oats and decided to decorate it like the rabbit face emoji and it was really popular with my readers and followers so I carried on from there!"

"Also, being a designer, I love to combine design and food to show people that healthy eating doesn't have to be boring!"

She adds: "I grew up in Cyprus so my love of food began there - I love the Mediterranean way of life, especially the food, and fresh fruit and vegetables are always a big part of the diet there!"

"My favourite meal of the day is 100% breakfast! It sets me up for the day ahead and being Scottish, I always look forward to my porridge in the morning ... but usually with a creative twist!"