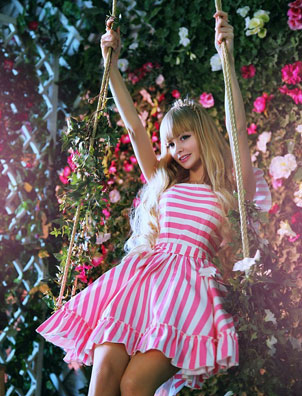 "Human Barbie" Whose Parents Refuse To Let Her Go Out Alone
Step aside Valeria Lukyanova, there's a new Human Barbie in town, and extraordinarily, she's been raised as a living doll since she was born.

Angelica Kenova, a 26-year-old model from Moscow, Russia, still lives with her hyper-controlling parents, who have been honing her drastic look all her life - dictating her diet and exercise programme so she can maintain her miniature six-stone frame.

"Growing up, my parents raised me like a princess and never let me go out, date boys or have the usual adult experiences," Angelica says. "As a result, I am not fit for real life - I'm like a living doll."

Angelica has been dressed up as a Barbie doll since birth and is only allowed to go on dates if her mother, Natalia, accompanies her.

Yet bizarrely, the diminutive blonde - who claims to be a child psychologist and a ballet dancer as well as a model - regularly poses for half-naked photos, which her parents approve of.

Angelica maintains that her walking-talking doll looks were achieved without plastic surgery and has amassed thousands of fans on social media.

She boasts the same unrealistic body proportions and wide-eyed features as a Barbie, with a tiny 20-inch waist and a 32E bra size.

"I have never had plastic surgery," she insists. "Cosmetic work is only necessary when an individual has serious faults with their face or body."

Angelica - who has one older brother, Roman - still lives with her parents and can only date men with their absolute approval - which has so far never happened.

"My mother and father don't want me to move out of the family home," she says.

"I'm not even allowed to buy clothes without my mum there - she likes to choose attire that clings to my figure and emphasize my good features."

"My mother also demands that she accompanies on any dates. I have to book a table for three people so she can sit at the same table whilst my date and I have dinner."

"So I've never had a proper boyfriend. All the boys I know are just friends unfortunately."

Angelica says that her mother and father, Evegniy, are keen to see her succeed as a model and are 'proud' of her raunchy photo shoots.

"Since I was a child, my parents styled me as a Barbie so I'm glad that I'm equated to one - Barbie is the idol of girls around the world."