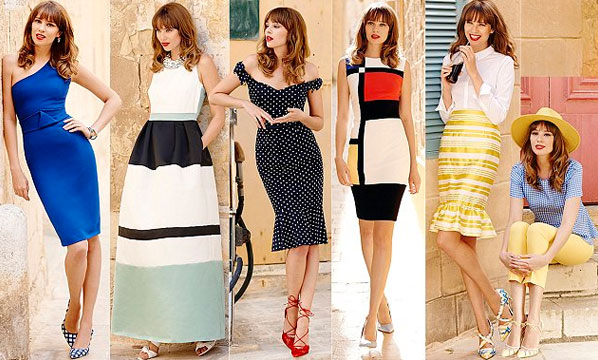 The Shape of Summer! From Full Skirts to Cropped Trousers
As summer approaches we are all looking for ways to revamp our wardrobes to suit the warmer weather.

It's not always easy to know which shapes, patterns and colours will suit your figure best.

Here, we've pulled together a selection of the most flattering outfits around this summer.

If you're looking for drama from your outfit, the maxi dress has been updated this season to a full, flared style.

The thick, black band sits at your widest area, helping to slim your hips and making your waist look tiny.

The High Street is awash with bright ankle-grazing trousers, and they're easier to wear than you think.

Team with a contrasting top and feminine heels and your ankles will look instantly slimmer.

Now dots are as fashionable as stripes, embrace the trend with this off-the-shoulder, flared dress. Bold, red shoes add a hint of glamour.

An asymmetric dress never dates. With the right extras, it can be lifted into something chic.

Stacks of bangles set it off perfectly. Go for earrings instead of a necklace so as not to crowd your neckline.

Fitted, graphic and bold: say hello to a summer superhero frock. Avoid jewellery - red lipstick is all you need.

A crisp white shirt and sunny stripy yellow kick-hem skirt look fresh and stylish.